Membership that means more
We value your goals and your financial well-being and want to help you achieve what you need.
1

We're your partner

Which means you'll never face a financial decision alone.

2

We're not-for-profit

So you can have lower rates on loans and higher earnings when you open a bank account online.

3

You are an owner

Which means we work for you. Unlike banks, who work for stockholders.
Discover the credit union difference
You deserve to be treated like family. That's why we focus on people, not profits here at Superior Choice Credit Union! Our rates are excellent and you can expect top-notch service from us as well because our goal is always your best interest in mind.
Membership Perks
We provide services to help you in all aspects of your financial wellness.

Exclusive Discounts & Services
We offer services such as TruStage Insurance, Financial Education opportunities, and more.

Support your community
We value the people and organizations that make our communities thrive.

Modern digital banking
We understand the convenience of digital tools, so we offer mobile banking options.
Membership Information
To open a bank account online, a share account of $5 must be established (the $5 account must be maintained at all times to enjoy membership benefits). Bring a photo ID with your current address (or your photo ID and something showing your current address) to any of our locations.
Are you eligible to open an account?
If any of the following is true for you, then you are eligible:

You are employed or living in:
Ashland, Barron, Bayfield, Burnett, Clark, Chippewa, Douglas, Iron, Rusk, Sawyer, Taylor, and Washburn counties, Wisconsin.
Carlton, Itasca, and St. Louis counties, Minnesota.

You are a member of:
Douglas County Historical Society located in Superior, Wisconsin.
The American Consumer Council (ACC).

You are a depositor or borrower of:
Dairyland State Bank obtained in the purchase and assumption transaction effective August 31, 2018.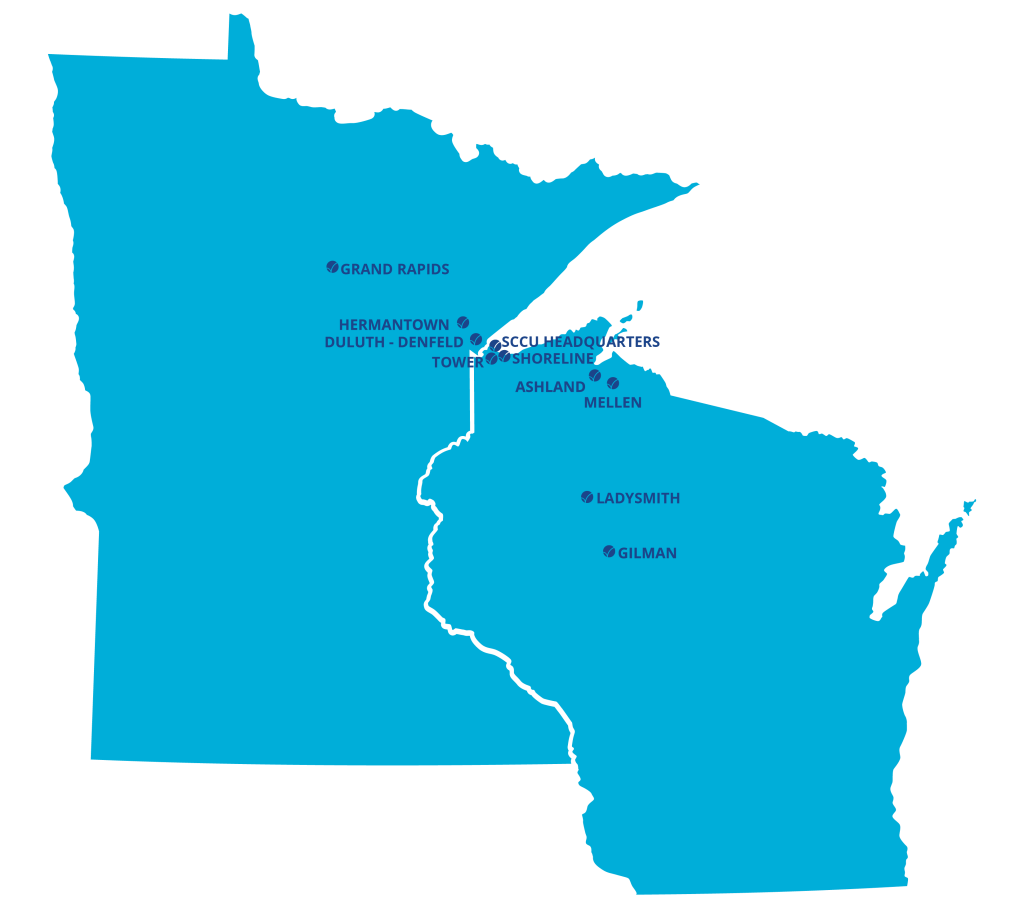 Other Important Info
Procedures for Opening a Bank Account Online
To help the government fight the funding of terrorism and money laundering activities, Federal law requires all financial institutions to obtain, verify, and record information that identified each person who opens an account. If you have questions regarding membership, please email [email protected] or call us toll-free at 1-800-569-4167.
What this means to you
When you open a bank account online, we will ask you for your name, address, date of birth, and other information that will allow us to identify you. We may also ask to see your driver's license or other identifying documents.