Managing
You're financially managing; You may be thriving in some areas but struggling in others.
Follow these steps to help get you on the right track.

Identify your vulnerable areas

Pinpoint some quick financial fixes

Put a long-term plan in place
STEP 1
Identify your vulnerable areas
Your financial health score comes from 4 key areas: Spending, Saving, Borrowing, and Planning. Take a look at each area and identify where you need improvement the most.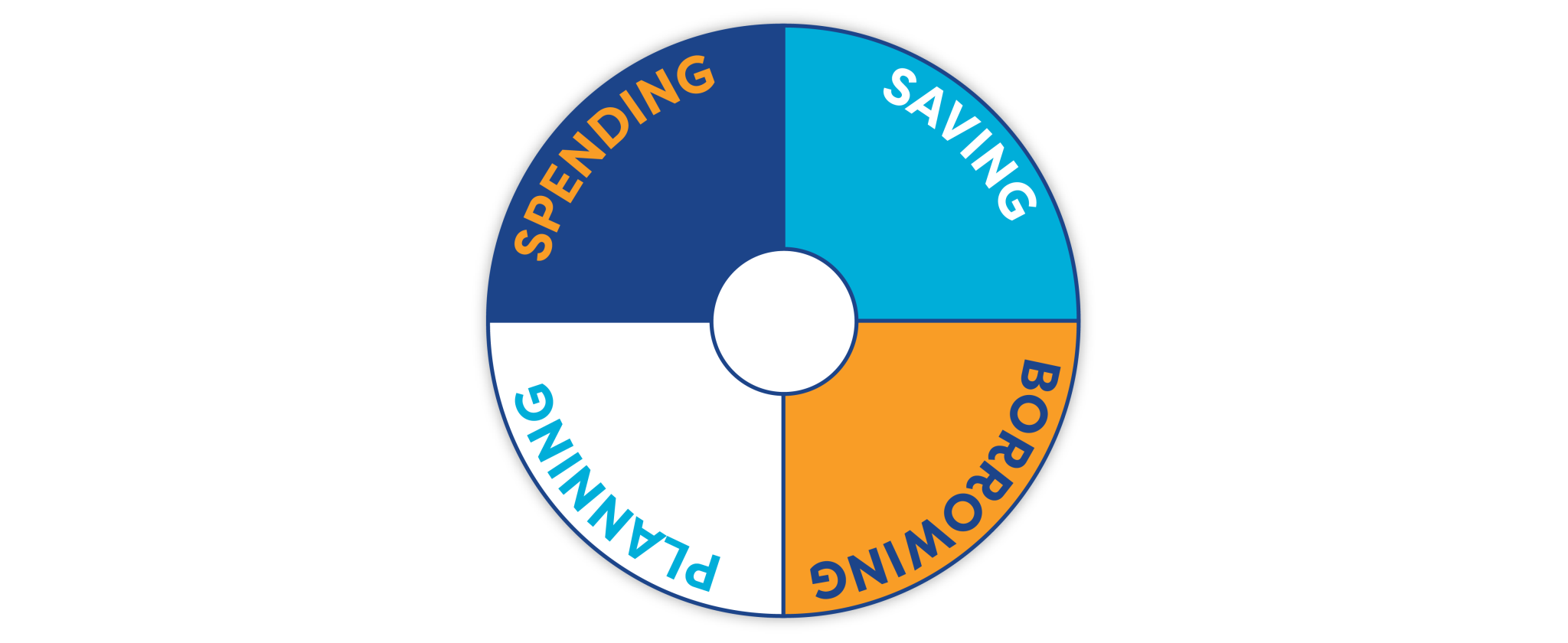 Spending
Spending less than you make
Paying bills on time

Saving
Ability to cover expenses in the event of an emergency
Meeting goals for long-term savings

Borrowing
Having a manageable amount of debt
Maintaining a good credit score

Planning
Holding adequate insurance policies
Planning ahead for your finances
STEP 2
Pinpoint some quick financial fixes
Once you've chosen an area to work on, let's take some quick actions to gain immediate results. Taking action is the most important step towards success, and even taking small steps can help build momentum towards establishing habits and achieving larger goals. By starting with ridiculously small actions, you can experience quick wins that create a positive feedback loop and motivate you to keep going. Here are some ideas you could start with:
Cancel one monthly service you can do without (Spotify? Hulu? Audible? Billie? We know there's at least one you can say goodbye to!)

Tip: Not sure what you are subscribed to? Check out the "recurring expenses" portion of your online banking

Schedule auto-payment for one of your bills, so you don't forget to pay it

Put $5 into an emergency fund to kick things off
Tips:

Utilize our "Fill-in-the-Blank" Savings account so your emergency fund is separated from your everyday checking/savings accounts
Set up an automatic monthly transfer from your checking to a separate savings account
Set up a Christmas Club Savings account to help with holiday expenses

Make a minimum payment on one of your outstanding debts
Pay off your smallest debt (get a snowball effect going!)
Make one extra payment on a loan
Check your credit score

Tip: View your credit score 24/7 right from your online banking dashboard!

Call your car insurance provider and ensure you have adequate coverage
Get a life insurance quote
Make one long-term financial goal to aspire to (Bonus points if you tell a loved one to help keep you accountable!)
STEP 3
Put a long-term plan in place
Once you've taken some quick action and seen some immediate results, let's focus on the big picture.
Make an appointment with an SCCU Financial Specialist!
Shoot us a message or call
Reach out to set up an appointment!
Membership eligibility required. All loans subject to approval. Your purchase of Superior Choice Debt Protection is optional and will not affect your application for credit or the terms of any credit agreement required to obtain a loan. Certain eligibility requirements, conditions, and exclusions may apply. Please contact your loan representative, or refer to the Member Agreement for a full explanation of the terms of Superior Choice Debt Protection. You may cancel the protection at any time. If you cancel protection within 30 days you will receive a full refund of any fee paid.
Test Modal
Modal Content
Ea rerum vel molestiae omnis molestias. Et ut officiis aliquam earum et cum deleniti. Rerum temporibus ex cumque doloribus voluptatem alias.
Leaving Our Website
You are leaving our website and linking to an alternative website not operated by Superior Choice Credit Union. We do not endorse or guarantee the products, information, or recommendations provided by third-party vendors or third-party linked sites.
Superior Choice Credit Union's privacy policy does not apply to third-party linked sites. Please consult privacy disclosures on the third-party site.